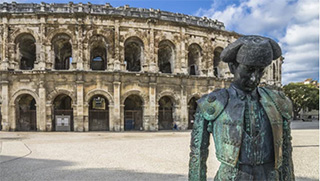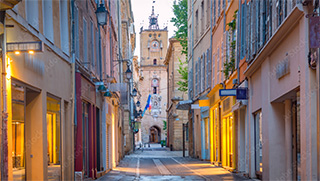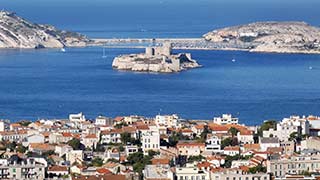 Contact us for Pricing
Highlights of Provence Tour from Aix-en-Provence, Arles or Marseille 
This is a full day private tour with pick up from Aix, Arles, or Marseille – your choice.
Pont du Gard: is the famous Roman aqueduct, a UNESCO World Heritage site and a breathtaking monument to see. From the parking lot walk half a mile past the historical interpretation panels at the visitor center.… and all of a sudden it appears in a scenic landscape as it was when it was built in 60 CE. Walk across and take it in.
Arles: Late morning, we will visit Arles, an ancient town founded by the Greeks, then conquered by the Romans in 435 CE. Most of the town we see today was built in the 1300s. We will explore the main sites like the Roman amphitheater, built in 90 CE to seat 20,000  Roman citizens, the beautifully sculpted medieval doorway of the cathedral, and of course, sites painted by Van Gogh who stayed in Arles for over a year.
Aix-en-Provence: Visit the former capital of the Provence county, its beautiful avenues lined with elegant 17th and 18th century palaces, narrow streets in the medieval center, taste the famous pastry calissons.  Follow the footsteps of Cézanne and visit his studio.
To the Mediterranean
Marseille: In 2013, Marseille was named the European Capital of Culture. See the Old Port with its fish vendors, taste La Bouillabaisse and enjoy the vista over the second largest town in France from the hill where stands the beautilful church 'Notre Dame-de-la-Garde' also called by the locals as La Bonne Mère ("The Good Mother"), the Château d'If and many other little islands in the distance. Walk in and around a major architectural and cultural achievement: the Mucem and Fort Saint Jean.