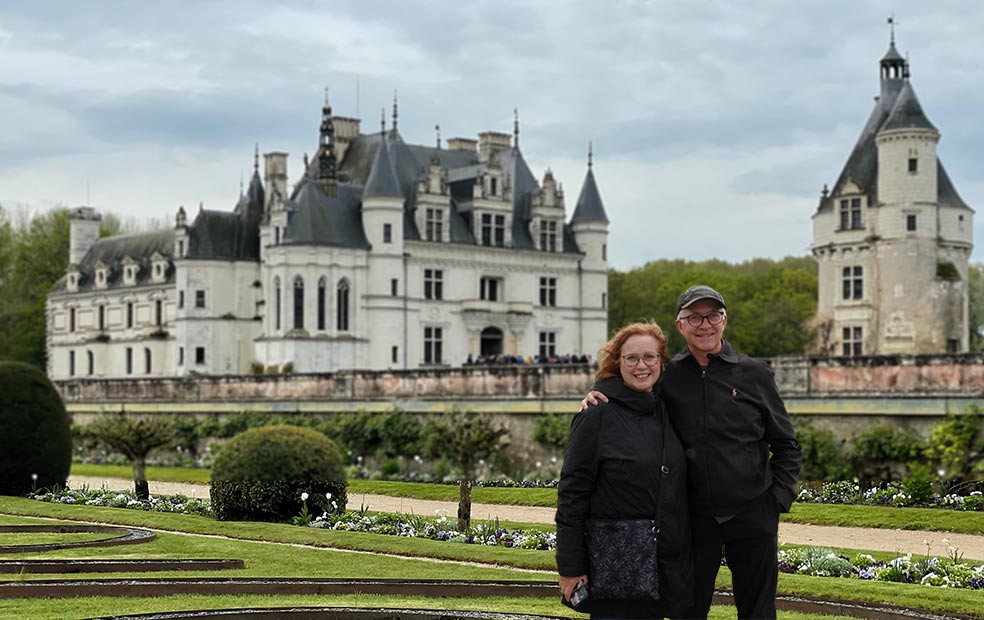 Une petite histoire
À Paris Travel was started in 1997, by Dave's wonderful late wife Sue, who as a French teacher leading student summer tours to France, thought she could do better. Sue and Dave met on a plane coming home from Paris where he often traveled for business in aviation management. In 2007 Dave joined Sue full time with À Paris Travel. Happily ever after, they traveled extensively together over the years in France and the UK to build a knowledge base of the best travel destinations and experiences, the best hotels, and the best people in the European travel industry.
Today, Dave and Cathy, (another love story) are collaborating to bring you new tours and travel experiences tailored to your interests. Cathy traveled from an early age, learning about cultures, as her father was a travel photographer for the San Francisco Examiner and her mother wrote the stories, often about traveling with children. Cathy too became a story teller, designing exhibitions at art, history, and natural history museums in Seattle and New York.
Creating travel narratives is a natural segue, by which Dave and Cathy are now collaborating, to seek out new fascinating travel destinations as well as the best of the classics. We want to share our passion for culture, art, and adventure.  
Check in with us – we'll be happy to answer your questions and help you create enriching and enchanting travel experiences. Click our contact button.
Merci beaucoup et bon voyage!
Cathy and Dave
With your travel plans in mind – À Paris Travel will create unique travel adventures that enrich lives, make life long memories, and bring people together.
Exceptional travel takes planning, experience, and knowledge. We take care of all the details so your travel time is spent worry free, soaking up new experiences on your grand adventure.

WA State Registered Seller of Travel 
UBI No. 601 823 058
AZ Corp Commission Entity ID 23432491